Autumn and winter are a wonderful time to consider decorating with warmer, darker tones in your home. Consider an evocative interior, where the mood is striking yet warm. Outside, the sun is low in the winter sky and the temperature is frigid. As the colours of nature shift to vibrant oranges and yellows, warm reds and earthy browns, we take advantage of seasonal changes to create a cosy atmosphere inside.
At April Hamilton, we integrate aspects of functionality and visual design to create an emotionally dynamic interior. In this blog, we'll walk you through 5 ways to decorate with warm winter colours. Along the way, we'll illustrate the role of intangible elements, including light quality and colour temperature; and tangible elements, like texture, colour, patterns and surfaces to create the perfect, cosy atmosphere.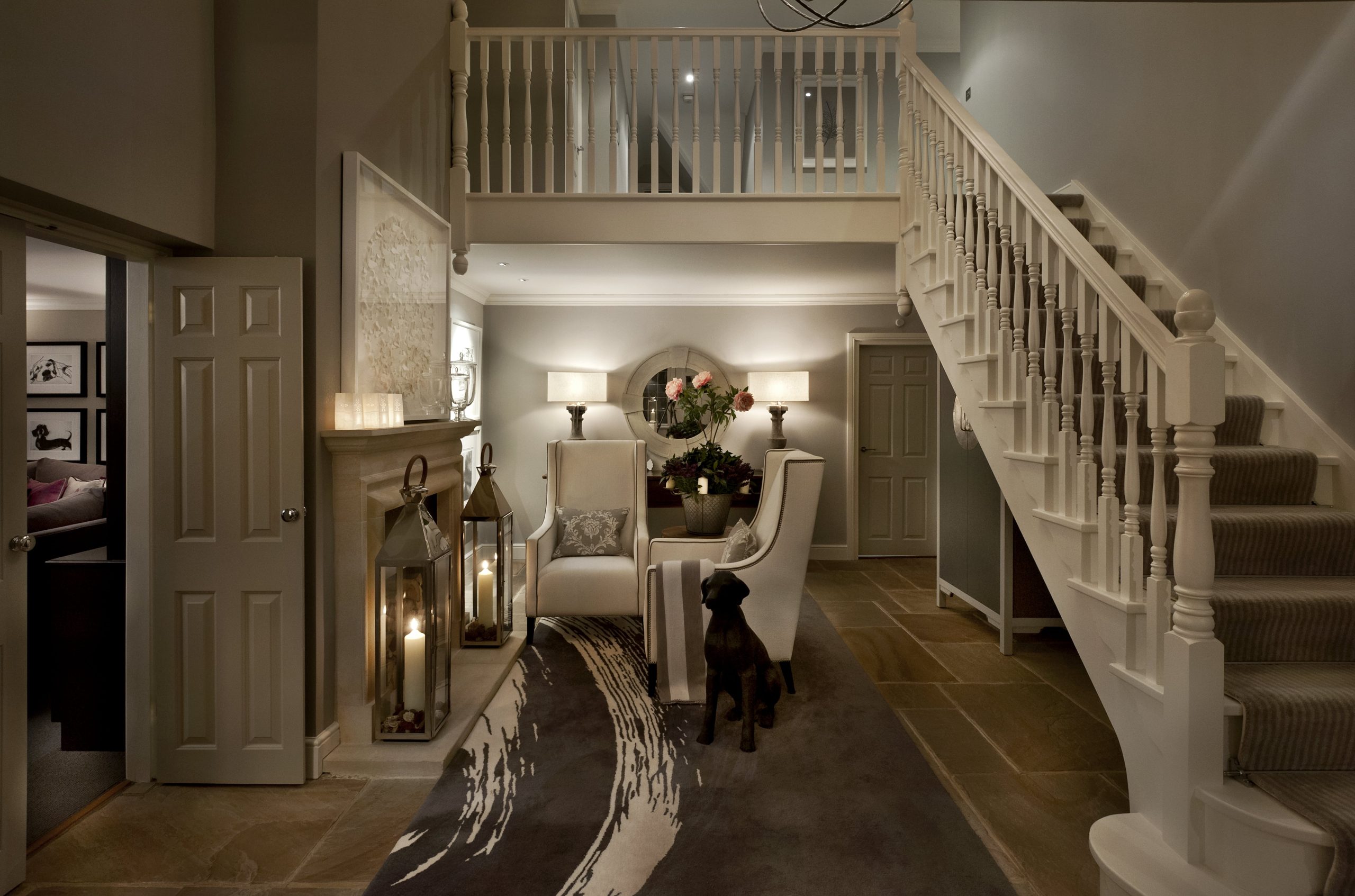 1. Creating Warmth with Texture and Dark Palettes
In the bespoke cinema room of this home, a darker palette called for a greater amount of textual contrast (as darker colours absorb light). To counterbalance this effect, we added artificial lighting to enhance the visual quality of textures. We introduced lighter contrasting wall surfaces (showcasing the Hollywood Greats!) to add depth and create an upbeat, inspiring mood. Pops of colour in the furnishings, ranging from warm orange to autumnal browns, showcase a contrast of saturation, creating accents of warmer colours. The interior also highlights the role of colour in design, and its association to materials, which can either absorb or reflect light. The end result: A great place to entertain guests and catch a movie in refined comfort and elegant style!
2. Adding Colour with Cushions
Cushions have the power to restyle both the sofa and room alike. Luxurious velvet is at play here in the cushions, where we tapped into a variety of shapes, colours and sizes to add texture, detail and added comfort. Patterned cushions can help a piece of furniture appear more pronounced. It can also draw the eye to a certain focal point. Colour plays a large role in a pattern. For example, the more contrasting colours in a pattern, the more dynamic the pattern. If you're looking for an easy way to decorate with warm winter colours, try layering and adding texture with cushions. Find a wide variety of decorative cushions at Andrew Martin.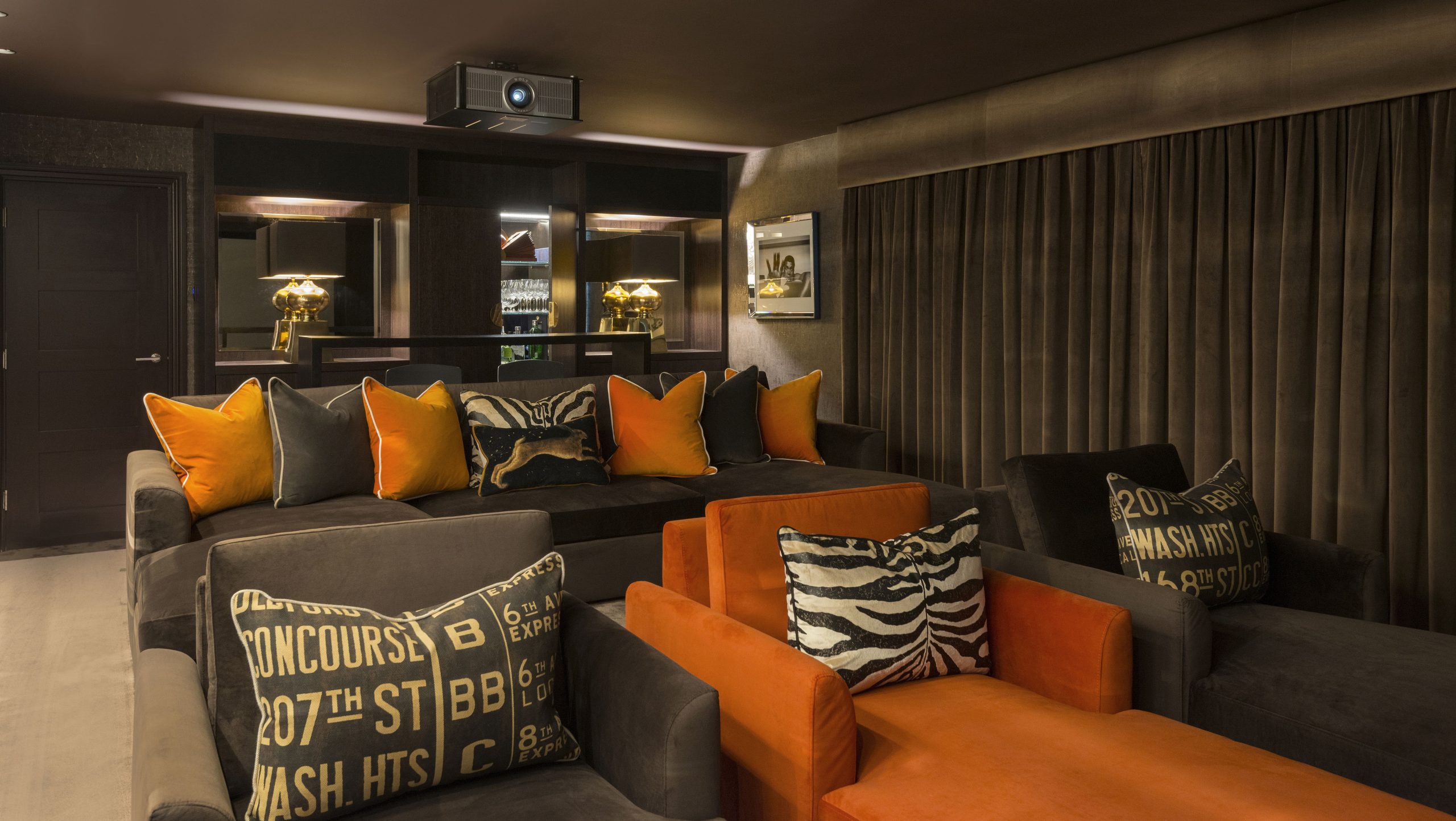 3. Altering colour Perception with Moody Lighting
In the dark days of winter, lighting plays a central role in design by informing design features and room character. In selecting a surface, we like to take advantage of its ability to complement our choice of lighting. For instance, walls can be designed to be warm with wall converting or with sultry curtains, as we've done here. Additionally, mirrors or other surfaces can be used to cast the glow of candles and soft lighting across the room. Overall, a softly lit interior creates a warm glow that not only complements the soft furnishings, but also cosies up the room. The result is a calming, relaxed atmosphere. Whether it's artificial, accent or task-based lighting, the effect is almost always striking. Explore the lighting collection at Porta Romana and Vaughan Designs. 
4. Accent Pieces
In the stunning entrance of this London home, we accentuated the artwork by using the polished American oak flooring to set the tone of the space, with organic wrought iron and oak table to house layered lighting and the Bocci lighting cascading over 5 floors. It was the perfect space to welcome you into the home
5. Nature-Inspired Earthy Tones
Earthy tones and shades of chocolate brown, moss greens, taupes and darker hues of mustard create a versatile and soothing effect. These rich tones create quiet living spaces with a sanctuary feel as in this conservatory we designed, was the perfect place to relax before a dip in the adjacent pool.
When decorating with warm winter colours, remember that the colour scheme is a powerful element that can be complemented by your choice of lighting, materials, textures and patterns. As one of the most invaluable elements in interior design, colour has the power to evoke a variety of moods, while simultaneously altering the perception of a space and setting its overall character.
Thank you for reading this week's blog. For further inspiration, feel free to browse through our website, including our recent projects.