You've decided it's time to say goodbye to dysfunctional aesthetics, bad lighting, and poor use-of-space; but where do you begin?
Having worked on so many great interiors, we've decided to draw on our extensive project experience to help you make sure you are asking all the right questions. So without further ado, here's how working with a professional interior designer can make the home you've envisioned come to life.
1: When is the right time to bring an interior designer into your project?
Firstly, this falls into two categories: New home or remodelling?
With either of these it's a good idea to talk to your design professionals early on as it really is never too soon.
Most designers are reluctant to visit properties until you've exchanged, but a simple link on an email can allow them to give you a good idea of what can be achieved.
If you are looking at a remodelling project you need to bring your designer on board at the very beginning.
It's usual for the designer to be responsible for orchestrating both the professional and build teams so everything that is merely a thought – at this stage – will have to be planned. This is why early involvement is crucial and it allows you time and space to explore all of the interior options.
If you've just bought a new home and require the interior design elements only, it's still a good idea to start looking early on. Lead times can be as much as 8 to 12 weeks and that's after the initial stage of the design, which can be anything from 4 to 10 weeks.
2: What questions should you ask your designer?
It's a good idea to ask plenty of questions about their portfolio.
Enthusiasm and authenticity tend to go hand in glove and the designer will generally give you the background story to every one of their designs that are showing on their website. This should give you confidence that they truly know their industry and have the experience you will be looking for.
Make sure to ask about their associate team members. For example, you might need a structural engineer and architect, or good connections at the planning office; how often do they use these other professionals?
Also, an experienced designer will often create bespoke pieces of furniture for your project. Find out about the pieces they have specifically designed.
Does the designer work with joinery companies?
Bespoke joinery is quite specialist and will often be completely led by the designer. They will often do the initial schematics and the joinery company will follow with working drawings. It will then be amended for sign off by the client and detailed ready for fabrication.
Make sure you feel confident in their suppliers and processes.
3: How do you know that you've found the right designer for you?
We did a video on this probably a decade ago and the sentiment is as relevant today as it was then. The questions you should ask yourself are:
Do you like them, and can you work with them?
Is there an understanding of mutual trust?
Do they make you feel excited and confident in their ability to bring a complex project to fruition?
Do you feel understood and listened to?
Projects can become complex, so whether calling them fills you with dread or excitement is crucial. You want to know that you'll always be welcomed with an enthusiasm that's contagious.
After the initial meeting, if you feel excited and can't wait to sign the contract and get going then you've probably found the right team for you!
4: What level of service do you require from your interior designer?
There are various ways interior design professionals work. Some charge a daily fee and some a percentage of the overall project.
Project management is often charged separately, but this is dependent on the size of the project and you may be able to negotiate a combination of both.
Design consultants aren't involved in procurement, project management or installations of any kind. These professionals may be appropriate if you wish to carry out the project yourself and look to seek advice throughout.
5: How much should I be paying for an interior designer?
Fees will vary enormously depending on the experience and kudos of the designer.
It is never truer than in the design industry that you truly get what you pay for. An experienced professional interior designer is an incredibly wise investment.
Not only will they produce a beautiful home that can be enjoyed for many years, they will undoubtedly increase the value of the property by investing appropriately.
6: What happens once you engage an interior designer?
You will be asked to sign a standard contract setting out the fees and retainers for the duration of the project.
Whilst general budgets are discussed initially, the details often evolve as part of the design process.
In fairness to both parties the brief should be set out carefully, with the scope of works, and an agreed timeline. This will give realistic parameters in which both parties can work successfully.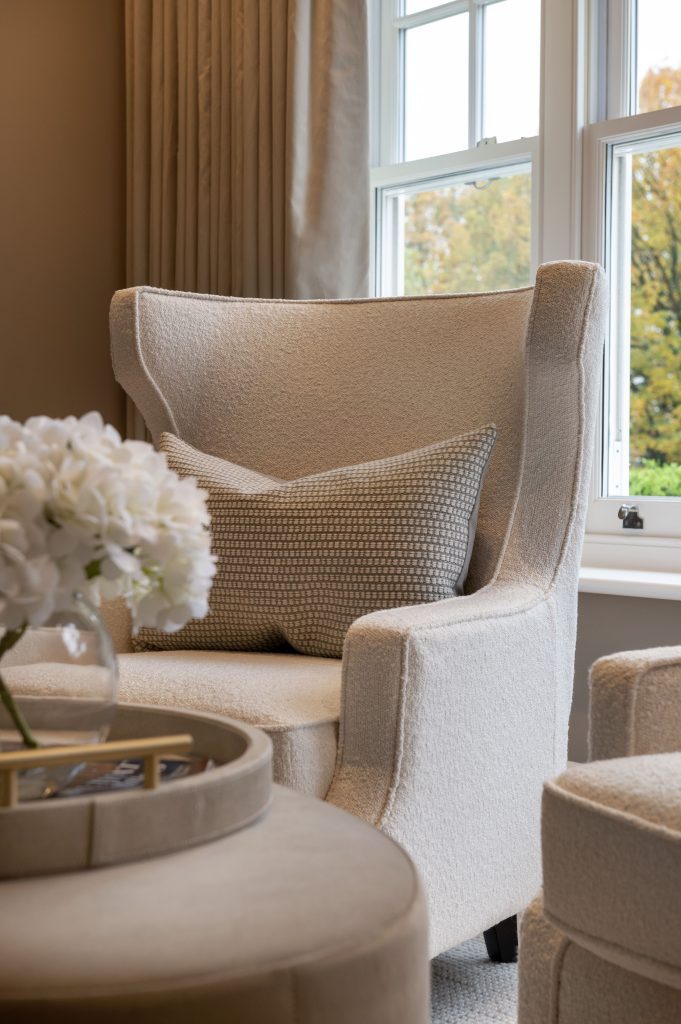 7: The step-by-step process of engaging a designer
Once you've engaged your designer you discuss the brief and the scope of works.
Working pictorially avoids confusion and gives the tone of what you, the client, is trying to achieve.
From a clients' perspective it's a good idea not to get too caught up in detail at this initial stage. Remember your design professional is trying to gauge what your likes and dislikes are.
In my opinion it's a mistake to discuss the design too heavily and using pictures and intuition is probably the wisest option. Interior design and architecture is a fusion of art and science culminating from years of experience, all to produce a highly complex scenario.
The designer will carry a full site survey and produce a footprint of the building and elevations and take lots of site photographs. This is then uploaded to CAD which is a piece of software that design professionals work from. It can be easily layered and stripped back for you so that you can read and understand the designs clearly.
Engaging other design professionals to support the lead designer is imperative for a successful result.
Whilst architectural interior designers are fully insured to carry out spatial changes within the footprint of the building, an architect is required for any external changes.
Structural engineers are required for loadings, to ensure that the structure remains safe when changes are made.
If you're working in a town centre, it may be necessary for a party wall surveyor to be instructed too.
Your design professional will start to make the changes that have been discussed, create layouts of furniture and joinery as well as lighting designs to facilitate the overall scheme.
With regards to kitchens and bathrooms, these are more complex and require detailed discussion; especially where kitchens are concerned.
We at April Hamilton tend to favour a full questionnaire for these areas as they are so personal to our clients and have so many extra elements to consider and we want our clients space to be functional as well as beautiful.
Many people love a serious kitchen these days and take great interest in cooking. We are often asked to provide kitchens at an almost professional standard.
8: The importance of staying in constant contact with your chosen interior designer
No one likes being ignored, especially when you engage someone to become your closest ally in what can be one of your greatest investments.
Keeping in regular contact is vital, as decisions need to be made that can impact the smooth flow of the project.
As a small boutique interior design company, we make it our mission to stay in constant contact with our clients.
We appreciate they have placed their trust in our ability to deliver one of their most prized possessions – their homes.
A warm email or update by text or phone is the least you should expect from your chosen designer.
9: Is the interior designer with you every step of the way?
Of course, or they certainly should be!
They will be your point of contact for everything that is happening on your site or in your home.
They are the orchestrator of the entire design and will be responsible for your professional and build teams, and any-and-all suppliers.
From conception to completion, having an exceptional working relationship is imperative.
If we produced a graph of how relationships work throughout the duration of a project it would run something like this…
Great enthusiasm and a little impatience
A feeling of excitement and being completely understood
The 'wobble' – it's at this point you need your designer to calm nerves and instil confidence but also remember to trust them
A beautifully interior designed home
10: How do I write an interior design brief?
Our advice is to go straight to Pinterest and/or Instagram.
Use Pinterest to start pinning. Categorise each room and pin how you would like it to look. Your Designer will see what your preferences are and which schemes to avoid.
Remember each of these are a finished room, so it's easy to get caught up in too much detail which isn't necessary at the initial stage.
Your designer will know how to tailor the room to achieve your specific requirements & produce a stunning interior. Trust them.
11: How do I find an interior designer near me?
By searching online and we're hoping that's how you found us?
Google has become the directory for most things, and by following the advice above it should be easy to search out an experienced and professional interior designer to meet your expectations and beyond.
We hope that have found this handy guide useful, and that it helps you discover the right team to realise all of your interior design dreams.
If you are looking for some more inspiration, why not head over to our interior design portfolio where you can see some of the incredible projects we have worked on over the last few years.
We are here to provide any advice or support we can to help you successfully complete your project. So, if you have any questions or queries, please do not hesitate to contact April Hamilton and ask!
From Richmond and looking to enhance your home? Get in touch with our Richmond luxury interior designers.