Expert Tips, Trends and Sustainable Interior Design Materials
At April Hamilton, we've been tackling the challenge of filling skips and landfills for a while now. However, we've also been quietly working on some eco-initiatives in the background. Our efforts include responsibly sourcing organic cotton, upcycling furniture by repainting with interesting tops and handles, and sometimes reupholstering when the piece is too good to go to pastures new. Finding out how to use sustainable materials in luxury interior design has always been an interest to us, so sharing our research is a must!
Recently, we came across a piece in The Guardian that provides helpful tips for anyone thinking of upcycling their beloved furniture. And if you feel your furniture is ready for a new home, there are plenty of places around Surrey and Sussex that give pieces a second chance, such as the Princess Alice Hospice. They will even collect the pieces from you, and your donations will benefit someone in need while also supporting their cause.
As we continued to search for something different, we came across Sedna carpet while sourcing materials for one of our new projects. We were blown away when we saw it. Sadly, one of the team recently damaged their new carpet. However, the guilt of replacing such a large piece of carpet was somewhat eased by finding Sedna, which uses Econyl to produce regenerated nylon from things like abandoned sea nets at the bottom of the ocean. What a brilliant collaboration and winner for eco interiors!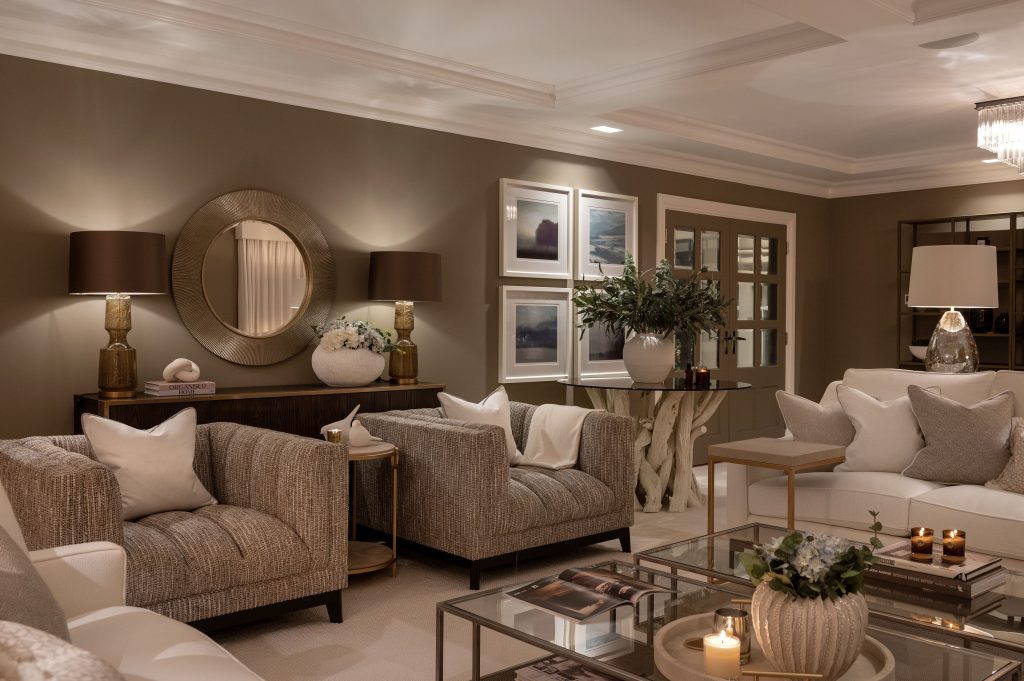 At April Hamilton, our team is committed to creating beautiful, sustainable interiors that align with our values. As UK-based interior designers, we believe that interior design should not come at the expense of the environment and strive to minimize our impact on the planet through our work.
In this article, we'll explore some of the sustainable interior design brands, materials, and trends that we love and that align with our interior design company's values of creating responsible and sustainable interior design.
Noteworthy Sustainable Interior Design Brands
As eco-conscious, UK interior designers, choosing the right selection of brands is essential to me. Here are a few of my favourite sustainable interior design brands:
Rubelli
I admire Rubelli's commitment to sustainability and its beautiful, high-quality fabrics. For example, their "Eco" collection is made from post-consumer recycled polyester, and they use natural dyes to reduce the use of harmful chemicals in their production process.
Rubelli is an Italian textile company that has been producing high-quality fabrics for over 150 years. In their 2021 sustainability report, they outlined their commitment to reducing their environmental impact by using renewable energy, reducing waste, and sourcing sustainable materials. They also collaborate with other companies to promote sustainable practices throughout the industry.
Kinnasand
Kinnasand is a Swedish textile company that creates innovative and sustainable textiles. Their latest collection, Monotypes, is made from recycled materials, and they have a long-standing commitment to reducing water and energy consumption in their production process. Kinnasand also uses natural fibres such as linen and wool, which are renewable and biodegradable. I'm a big fan of Kinnasand's dedication to sustainability and its unique, beautiful designs.
Jacaranda
Jacaranda Carpets and Rugs, a leading manufacturer of luxury carpets and rugs (and one of my favourite carpet suppliers) has announced its commitment to becoming net-zero by 2040. To achieve this goal, they plan to reduce their carbon emissions by 50% by 2030 and use renewable energy sources for all their remaining energy needs. They will also invest in reforestation projects and support local communities in the areas where they source their materials.
Other notable sustainable interior brands I love:
COAT Paints, a UK brand of eco-friendly paints, has recently become B Corp certified. This certification illustrates their commitment to social and environmental responsibility. They use sustainable manufacturing processes and source materials from local suppliers to reduce their carbon footprint. Their products are also free from harmful chemicals such as VOCs, making them safe for both the environment and your health.
Heal's has created a collection using recycled ocean plastics and yarns from fashion industry waste.
Elvis & Kresse, based in London, makes bags from rescued fire hoses and rugs from the leather offcuts of luxury brands, and it donates half its profits to charity.
VitrA Balance baths: if you're concerned about water wastage when soaking in the tub, you can treat yourself to a VitrA Balance bath, designed to require less water.
Choosing Sustainable Interior Design Materials
Using sustainable materials is a crucial aspect of creating eco-friendly interiors. Sustainable interior design materials refer to materials that are sourced and manufactured in an environmentally friendly way. Choosing sustainable materials can have a positive impact on the environment.
Additionally, materials that are responsibly sourced and produced have a reduced carbon footprint and can help reduce waste and pollution. Moreover, sustainable materials are often of higher quality and can last longer, reducing the need for frequent replacements.
If you're looking for sustainable interior design materials, you have plenty of choices. For flooring, you can try using materials such as bamboo, cork, or reclaimed wood. For insulation, try materials like wool, cotton, and cellulose – all eco-friendly options. What's more, natural paints, organic fabrics, and recycled metals are other sustainable materials that you can use in interior design.
In this section, I'll walk you through some sustainable materials I love (and ones you should know):
Reclaimed Wood
Reclaimed wood is an excellent sustainable material for furniture and flooring. Salvaged from old buildings and structures, it reduces the need to cut down new trees. Reclaimed wood also has a unique character and history, adding a rustic and authentic feel to your space. I love using reclaimed wood– a material known particularly for its sustainability and beauty, in our luxury home interior designs.
Bamboo
Bamboo is a fast-growing, renewable resource that is perfect for your eco-friendly interiors. It can be used for flooring, furniture, and increasingly textiles. Bamboo grows quickly without the need for pesticides or fertilizers, making it an excellent sustainable option.
Upcycled Materials
Upcycling is a fantastic way to give your old materials a new lease of life. At April Hamilton, our luxury interior designers are experienced with upcycling furniture, and it's a trend that I hope to see more of in the future. Upcycling involves taking old or discarded materials and transforming them into something new and functional. Upcycling not only reduces waste but also adds character and personality to your space!
Cork
Cork is a natural, renewable material that is harvested from the bark of cork oak trees. It is durable and resilient, and an excellent insulator that helps to reduce energy usage in buildings.
Linen
Linen is a natural, plant-based material that is known for its durability and versatility. The fabric is often used for upholstery and soft furnishings as a sustainable alternative to synthetic materials.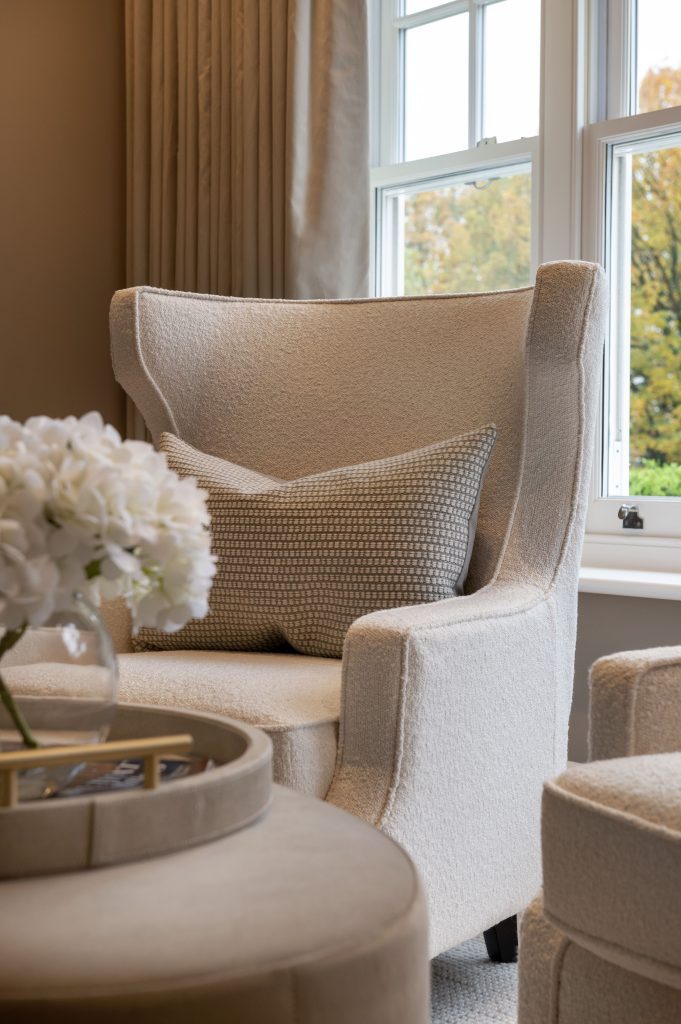 Recycled Glass, Plastic & Steel
Recycled glass is also an eco-friendly material that is produced from recycled waste glass. It can be used for flooring, walls, and surfaces, and is available in a range of colours and finishes.
Upcycled plastic is a versatile material that can be used for similar application Made from recycled waste materials; it reduces the demand for virgin materials and helps to reduce waste in the environment.
And the same can be said for steel which is a sustainable alternative to traditional steel, and is produced from recycled waste materials. It is a strong, durable material that can be used for a range of construction and interior design applications.
Stone & Straw Bale
Stone is a natural, sustainable material that can be used for flooring, walls, and surfaces. There are many different types of stone available, each with its own unique character and properties, making it a versatile and eco-friendly choice for your interior design vision.
Straw bale constructions are a sustainable alternative to traditional building materials. Made from dried straw, they can be used as a building material for walls. These constructions reduce the demand for traditional building materials and help to reduce waste in the environment.
Semi-synthetic materials
Semi-synthetic materials are a type of material that combines natural and synthetic materials to create a sustainable alternative to traditional building materials. They are often used for flooring, walls, and surfaces, and are a popular choice for those looking for a material that combines the best of both worlds.
Sustainable Interior Design Trends
Keeping up with the latest interior design trends is essential, but it's equally important to ensure that they align with our values at April Hamilton. Here are some of the sustainable interior design trends that I love right now:
Biophilic Design
Biophilic design is all about integrating nature into interiors. It's a trend that I've been incorporating into our designs for years. Biophilic design involves bringing natural elements such as plants, water, and natural light into interior spaces. It's been shown to improve well-being and productivity and reduce stress and anxiety. I love the calming and soothing effect that biophilic design has on interior spaces and appreciate its sustainability and health benefits.
Net Zero Buildings
Net zero is a term used to describe buildings that produce as much energy as they consume. I believe that net-zero buildings are the future of sustainable architecture and design. Net-zero buildings achieve their sustainability through a combination of energy-efficient design, renewable energy sources such as solar panels or wind turbines, and energy storage systems such as batteries. I also love the idea of buildings that give back to the environment and reduce our carbon footprint.
Sustainable Superyachts
Sustainability is not just limited to interior design; it also extends to luxury yachts! I was impressed by the sustainable superyachts showcased in this video from the Design Centre Chelsea Harbour in London. These superyachts incorporate eco-friendly features such as solar panels, hybrid engines, and sustainable materials. It's great to see the advancements made in the luxury and sustainability of these superyachts and hope to see more sustainable yachts in the future.
Craftsmanship and Considered Materials: Why I'm Inspired by Sustainable Interior Design
Sustainable interior design refers to the practice of designing and creating interior spaces that have a minimal negative impact on the environment. It involves the use of materials and products that are eco-friendly, energy-efficient, and non-toxic. More than that, sustainable interior design also blends unique craftsmanship and considered materials – essentially keeping waste at a minimum and design at a maximum. The goal of sustainable interior design is to reduce waste, conserve natural resources, and promote your health and wellness and the environment.
At our London- and Surrey-based interior design company, we care about sustainable interior design for several reasons. First, it helps to reduce the carbon footprint of a building, which in turn helps to mitigate climate change. Sustainable interior design also promotes the use of renewable resources that are abundant in nature and can be replenished over time. Additionally, sustainable interior design creates healthier indoor spaces by using products that are free of harmful chemicals and allergens.
Moreover, sustainable interior design can also help you reduce energy costs by incorporating energy-efficient lighting and HVAC systems, as well as using natural daylight and ventilation to reduce the need for artificial lighting and air conditioning.
Browse some of our recent luxury interior design projects that incorporate plenty of natural light.
Final Thoughts
On recent April Hamilton interior design projects, I've created spaces that are not only aesthetically pleasing but also environmentally responsible. This means using materials that are sustainable, eco-friendly, and ethically sourced. It also means designing spaces that are energy-efficient and have a minimal impact on the environment.
At April Hamilton, my team and I are committed to creating beautiful, sustainable interiors that align with our values. We believe that sustainability should not come at the expense of design or luxury, and we aspire to find innovative and creative ways to minimise our impact on the planet.
I hope that this article has inspired you to consider sustainability in your interior design choices and to join us in our mission to create a more sustainable future. If you're looking for an interior design company or London interior designers that prioritise sustainability, I would be thrilled to work with you.