I'm lucky enough to be writing this blog from the west facing loggia in my garden, which doubles as a lovely intermittent dining area. When we have a chilly northern wind, it encourages our friends and family from the patio into a haven of warmth and evening sun, as we nestle in amongst the Surrey hills.
Having enjoyed almost 30 years as a luxury interior designer I never cease to be truly amazed at the complexity of interior and architectural design and its endless permutations that can be achieved. So I invite you to come on the journey with me as how best to encourage the creativity of any designer and how not to crush that very special gift if you want to achieve stunning yet soulful interiors that will stand the test of time and calm the spirit…
After the gorgeous weather we've recently had in the UK suddenly turning grey, I started to reminisce about one of our most glamorous and inspiring projects, on the Isle of Wight. The clients were relaxed and confident in our ability to deliver a top interior designed house and concluding with a hug and hand shake, with the words "A job well done" was indeed testimony to that…
I proudly present the interior design for the Isle of Wight project and all that was achieved in just eight months
The clients are big entertainers and wanted the kitchen, prep and coffee rooms to reflect that with a relaxed informal sitting area for guests to chill, whilst their chosen chef prepared delicious meals. I've always been drawn to Andrew Martin, their timeless and unusual pieces are attractive and fitted perfectly in this room, with a slightly masculine overtone.
Moving on into the entrance, we continued with the theme of a relaxed yet sophisticated interior with some bespoke furniture designed by us at April Hamilton. Whenever budget allows and as it's such a luxurious material, I'll instinctively source flooring from Jacaranda, the rugs can be made to any size and finished with almost anything the imagination will allow. The unusual driftwood table comes from a lovely artisan in the West Country and features in other interiors of ours, it adds an organic material to relax the overall feel and one that I favour.
We received news recently that the beautiful artwork you see will no longer be created as the artist wishes to move onto other subjects, I am especially saddened as it remains one of my most favourite pieces and in the flesh is quite simply stunning.
The dining room in contrast was to be really sexy, a sophisticated luxury top end design at its very best, so we created a bespoke dining table with inset nickel detailing & dressed it with Haviland, Amiramour and super comfortable bespoke dining chairs.
The Porta Romana pear lamps are an old favourite of ours, they added a soft pool of light to a quiet corner, also highlighting our client's special artwork.
The study was a reasonably simple room as we had some existing pieces to incorporate, such as the fitted joinery and artwork. We softened the room with furniture, rugs and hand finished curtains, using Designers Guild fabric and some accessories from de Le Cuona.
I hope I may be included as one of the top interior designers UK and when I look at this particular interior I feel so humble and grateful to have been given the opportunity to shine with the best team in the world. I'll always default to my little black book of favoured suppliers and artisans with this living room being no exception.
We sourced fabrics from GP&JBaker and Thibaut, alongside unique candles by Lauren Dickinson Clarke and Trowbridge Gallery artwork which sat beautifully with the bespoke joinery, upholstered bench and coffee tables designed by April Hamilton, all underpinned by a huge luxurious crème rug.
Creating a luxurious interior designed bedroom is always so personal and needs to be acoustically quiet for perfect relaxation, so we used a Phillip Jeffries textured wallpaper to create a subdued atmosphere and the tactile nature of the furniture was the perfect application for this scheme. Our workrooms produce some of the most stunning hand finished curtains which are mostly, always interlined to give that heavy glamourous hotel feel to a room.
Whilst we had several bedrooms to create in addition to the rest of the house, I thought I would just include a couple of my personal favourites. This curved bay window which looked across the sea echoed the designs of 1930 and the Art Deco era so I thought I would play to the gallery on this one, by introducing a curved blush pink sofa, chevron and honeycomb fabrics to add an air of movement and to compliment the mirrored furniture.
The top floor was simple and effective with a really considered bathroom giving clean lines and an easy space to drop your weekend bag and enjoy all the facilities this beautiful house had to offer.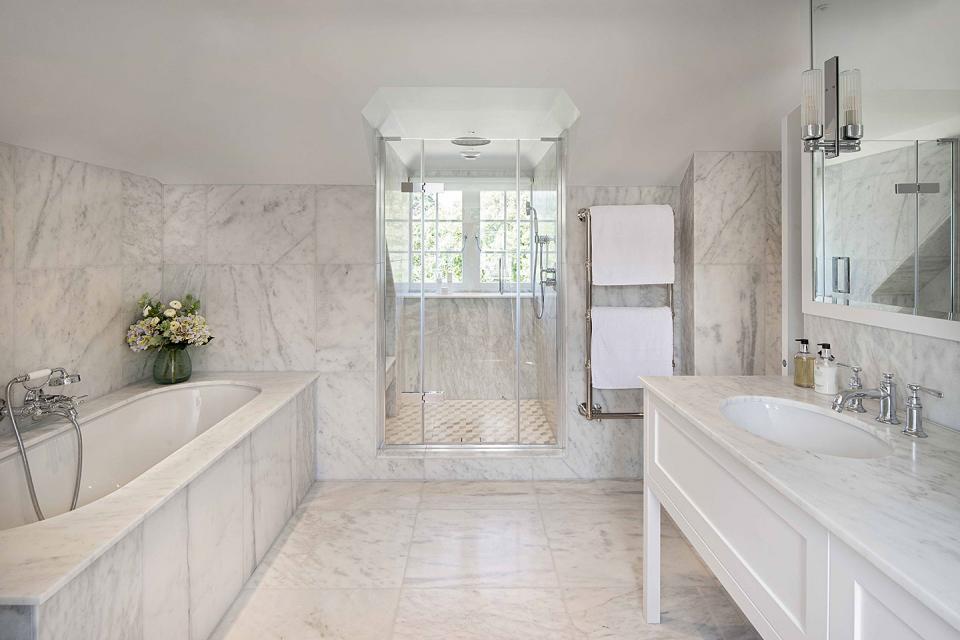 We started this luxury interior design Isle of Wight project in the sea room, affectionately described as the garden room, although I can understand why. This was perfectly positioned for fun, sea and sun with lots of entertaining! I hope you enjoyed reading, it's been a pleasure sharing.