The festive season is officially here and we love everything about it. Here at April Hamilton, our attention for this blog is on Christmas gift inspiration and all of the wonderful things that come with the month of December. We're serving up our favourite Christmas decoration ideas, including where to shop for Christmas.
Find Luxury Christmas Gift Inspiration
Liberty is one of the best places to shop at Christmas. Complete with iconic architecture – the department store showcases a curated selection of opulent gifts including designer fashion, home gifts, beauty gifts and more. To add a touch of decadence to your gifts, shop their Gift Inspiration page, filled with must-haves like luxury hampers, Neom organics sets and Diptyque candles. Or, we would naturally suggest a trip to the store in Regent Street, joining the hustle and bustle of a Christmas shop and mixing in some socialising whilst you're there!
Add festive elegance to your dining table
Create a glamorous and sophisticated dining room this Christmas with the new Flaming Pandora collection from Amiramour. Guests will love the attention-capturing pieces designed in rich red shades. Combined with a graceful pearl napkin ring, the collection is reminiscent of timeless elegance. Below is a table-scape we created for our Isle of Wight project using bronze and golds, including the decadent porcelain plates and glassware from Haviland.
You can also make the festive mealtime extra special and serve guests using tableware collections from Oka's collection of hand-painted china, glassware and timeless cutlery sets.
Bring cheer with Christmas Decorations
We could spend hours looking and admiring all of the gorgeous tree decorations out there, and we have! Fortnum and Mason's Christmas Decorations are guaranteed to add seasonal cheer to any home from ornaments to glass baubles and animated ornaments.
Luxury crackers are always a must at Christmas time; not only because you get a little treat inside, but hopefully some jokes too.
For a magically festive Christmas table, shop these delightful festive tablescapes at Mrs Alice. Alice and her company is one to admire – Offering enchanting, elegant tableware to take the hassle out of hosting, Alice's "Tablescape In A Box" was the first product of its kind, making the art of Tablescaping accessible worldwide. We particularly love the frosted fir trees and the ginger jar baubles.
Complete dressing your Christmas tree with unique ornaments, LED lights and stocking fillers online at Selfridges. Or pay a visit to their flagship store in London's Oxford Street.
Browse charming Christmas tree decorations, like the Glitter Star Decoration or the Glitter Snowflake Decoration and more at The White Company. A company we had to mention!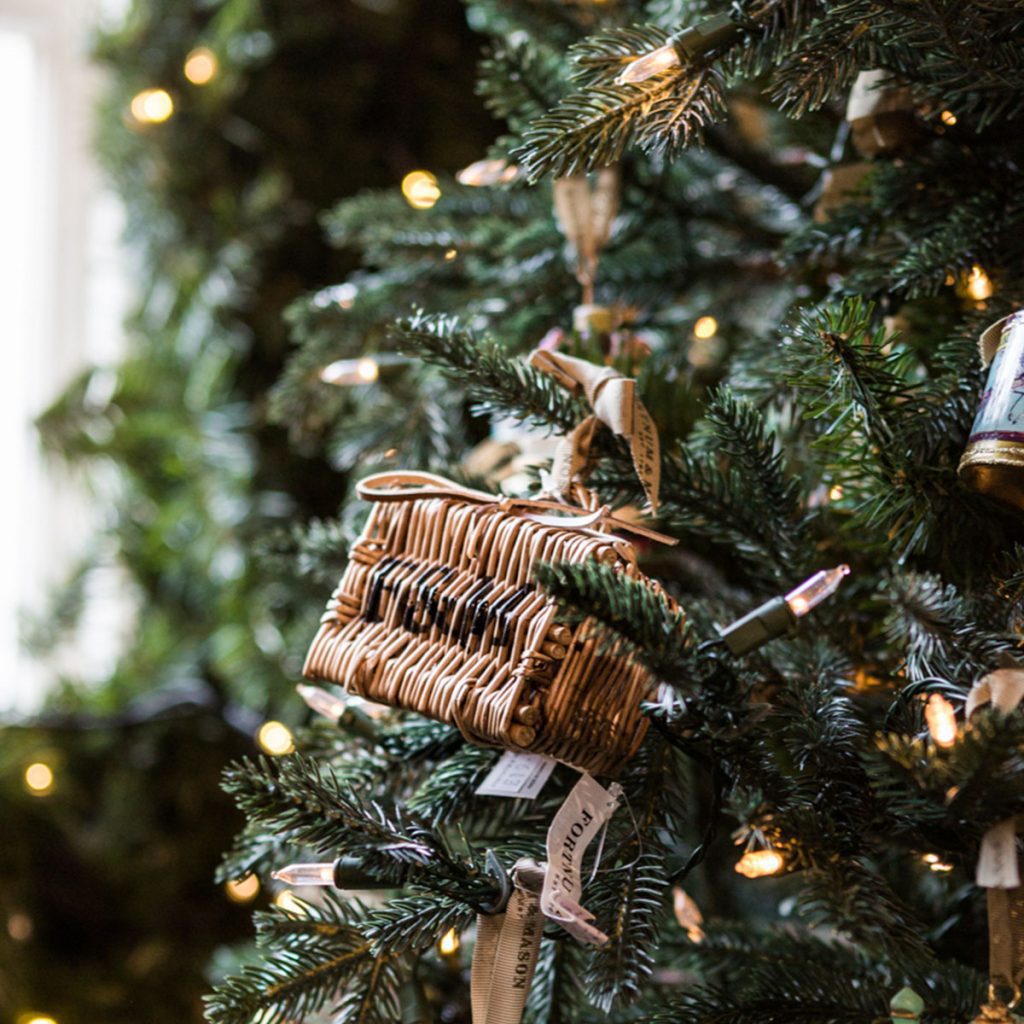 Christmas Lighting Ideas: Charming Candles and Merry Lights
Bring your Christmas tree decorations to life with these floating LED candles from Dunelm. These warm white flickering lights are battery-powered and sure to make any room merry and bright. Mixing affordable retail brands with luxury decorations can substantiate your overall Christmas design in such a subtle yet elegant way and one that won't go unnoticed.
Ester & Erik's elegant and high-quality candles are not only 100% natural, but they also add a stunning touch to the dining table. Their candles also made a debut in our Isle of Wight dining room on a recent project. These beautiful candles will most certainly spruce up your Christmas decorations.
The lovely matches in the glass pots from Nina Campbell make a wonderful gift. Moreover, they easily complement the candles from Ester & Erik. We would also suggest taking a look at their fern napkins.
Don't forget: Christmas Wreaths
This year, greet your guests with a festive, luxurious Christmas wreath.
The 'Love Actually' wreath by Ronnie Colbie is a classic Christmas favourite – with its oversized red velvet bow and combination of ruby red hydrangeas, dried orange slices, festive berries and pine cones.
For a warm winter wreath, browse The Lichfield Gold Wreath by Paul Thomas, which features dried oranges, cinnamon and walnuts and berries.
The expert florists at FLOWERBX have created a wonderfully expansive selection of handmade and vibrant wreaths to choose from. From Winter White to Red Berry – these wreaths are dazzling.
To maximise your wreath's lifespan, mist it with water frequently and keep it outside (or in a cool place).
If you're looking for more Christmas wreath inspiration, browse this post from Tatler. And for more Christmas ideas and inspiration, read this article from H&G.
Finally, a trip to Harrods this Christmas is always a delight… We'll be ticking that off our list this December.